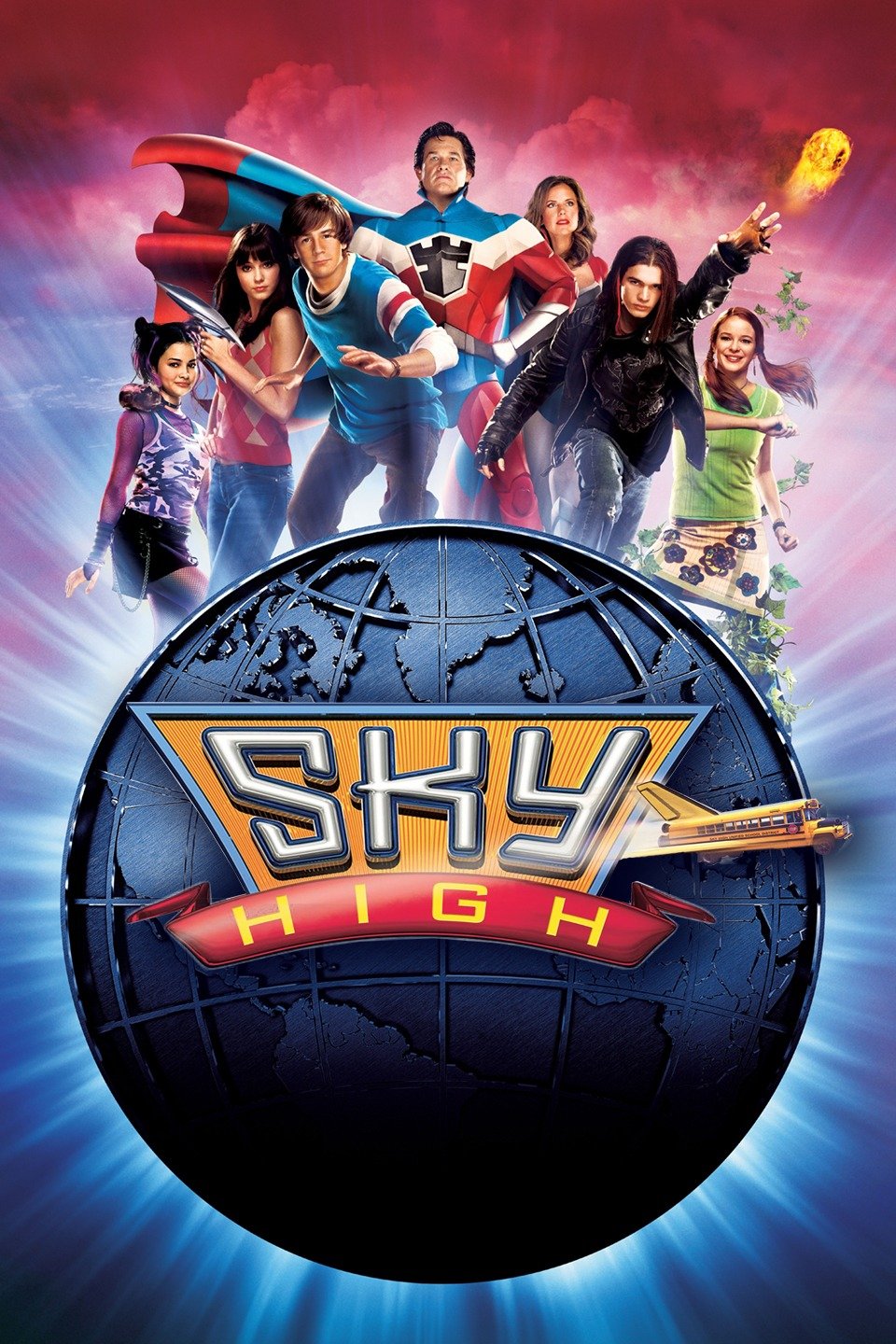 SKY HIGH
Written By Paul Hernandez, Bob Schooley and Mark McCorkle
Composed By Michael Giacchino
Directed By Mike Mitchell
A high school for superheroes, that is awesome...Kurt Russell as your father, that is awesome...Lynda Carter as your principal, that is awesome...Bruce Campbell as the gym teacher, this is f--king genius...so why does nobody talk about 'Sky High', a genuinely funny comedy with a real original idea that for some reason nobody ever remembers and I just don't get it since I thought it was really amusing: it's not one of the comedic greats, but it has a really fun idea and it takes every advantage that it can with it and it makes really good jokes that the whole family can enjoy which is why it's finally time that I take a look at this in celebration of its fifteenth anniversary right around the corner and also in memory of the recent passing of Kelly Preston who played the part of Josie Stronghold/Jetstream in the film as well...is this film meant to be a superhero or will it forever be stuck as a sidekick? Let's find out, this is 'Sky High'!
SKY HIGH: At a school in the sky where teens learn how to be superheroes, Will Stronghold lands in a class for students who show special promise...but while classmate Gwen quickly cozies up to Will, but it's soon clear that she has other motives when he learns that Gwen's mother is a villain who was defeated by his father Steve Stronghold thus Will realizes that Gwen is aiming for revenge and he rushes to a school dance in the hope of stopping her.
I really like the angles and the cinematography in this since it really feels like you're reading a comic book while looking at it particularly with the lighting. While the high schoolers in this don't talk as much as high schoolers but more like Simpsons characters, the whole thing kind of feels like a Simpsons episode in fact but in a good way: it's kind of aware of the relationships in both schools and family and kind of mocks and has fun with it. There is a bit of a love triangle but even that gets a few laughs mostly because I enjoy these characters so much: Disney is usually so bad at writing teenage characters but these guys are all really fun and very unique and have their own identities, it's one of those comedies that just throws joke after joke after joke at you and there's some real good ones particularly with the running jokes.
For example, there's sort of a throwaway gag here where these two boys are making fun of this girl and she freezes them: okay, that's funny enough...but then later in the movie out of nowhere, it cuts back to them and it's nighttime and they're still there. Every once in a while in the movie, they'll just cut back to them still frozen and you just can't believe it...did nobody ever do anything to help these two, they just left them there the whole time, that's pretty funny. Sometimes the film gets a little bit into the Disney teen romp and it kind of feels a bit like 'High School Musical' but it's not really that bad, you kind of expect it in a Disney film and you know they have to do it but I think it rolls out fine yet I think my only problem is that the parents particularly with Kurt Russell as Steve Stronghold/The Commander are a little too forgiving...at first it's really funny and a good running joke, but then you really start to question their parenting and I think he gets away with murder just one too many times.
But aside from that, I think 'Sky High' is a lot of fun: it's a wonderful idea that's child-friendly and has some great gags for both kids and adults alike...it's not perfect but it's not meant to be, it's supposed to be a fun little comedy adventure with some really creative ideas and that's exactly what it is. Don't believe me, check it out and take flight for yourself because 'Sky High' is more than worthy of an 8.5 out of 10 rating