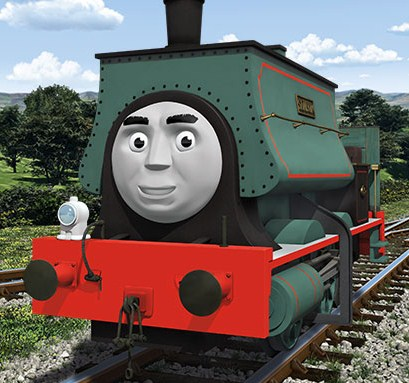 Season 20, Episode 11: Saving Time
Written By Andrew Brenner
Ah, Samson...I sadly haven't been a fan of you or your episodes-mostly because they feel very formulaic, but hopefully our next episode in Season 20 will make me think different about you...let's take a look at 'Saving Time'!
Samson and Thomas has been assigned the same task of taking stone from the Blue Mountain Quarry to Brendam Docks, but Samson tries to show everyone how important he is by taking more trucks than he should insisting that it will save time. Much like 'Over The Hill', we had no idea what this episode was going to be about and it made us all the more excited to find out...but when we eventually did find out, I wasn't too keen when I found out that this was going to be a Samson episode. But I did my best to go into this episode with an open mind and I was actually left surprised.
Now, the main problem with Samson episodes are that you've pretty much seen them all if you've seen at least one since they all follow a similar pattern of Samson being given a job and thinking that he's better than everyone else by trying to do more than he should...and that plays a factor into the story since it follows the pattern of Samson's previous episodes and honestly felt predictable...however, I will say that this is actually Season 18's 'Samson At Your Service' done right as there actually was a clever reason behind Samson's arrogance and it does manage to provide some good comedy among the characters.
As for the animation, there really isn't much to talk about without me repeating myself from past reviews...but I will say that I love a lot of the different camera angles and shots especially when Samson is trying to make his way over Gordon's Hill, so I have to give kudos to Arc for once again delivering some awesome animation.
And when it comes to the characters...while Samson is still his arrogant and pompous self, he's not as annoying as he could've been like he was back in Season 18 as there was actually a reason behind him acting this way in the form of Thomas' cheekiness...and while some would say that this was another episode where Thomas felt shoe-horned, I think what they did with him was actually really clever especially with how he gets punished for his cheekiness by being Samson's back engine-bravo to Joseph May and Robert Wilfort for another awesome performance!
Overall, 'Saving Time' may not be the best episode of Season 20...but it's easily Samson's best episode to date and gets a rating of an 8 out of 10.