Season 3, Episode 7: Stop The Presses
Throughout the first half of Season 3, we have seen BoJack Horseman struggle with the idea of being micro-managed by his ruthless yet efficient publicist in an epic race to win an Oscar for his dream movie 'Secretariat' which was filmed throughout the duration of Season 2 all while he was nearly framed for a crime he didn't commit and tried to make things right with the ex-director of 'Secretariat' after getting her fired on top of crashing a wedding rehearsal dinner where he almost broke up the latest newlyweds in Hollywoo. But as we begin the second half of Season 3 after what was easily the most appalling episode in the entire series in my opinion, let's just hope that BoJack can make things right again as we 'Stop The Presses'...let's take a look!
STOP THE PRESSES: While

Todd builds a giant papier-mâché Todd head, a customer service rep gives BoJack some sound advice when he tries to cancel his newspaper subscription
PROS:
'The Problem With Paper'-when something is stealing food from BoJack and Todd's house, Todd makes a giant

papier-mâché Todd head to scare whatever it is away...at least until he forgot about when working on the female equivalent of Uber known as Cabracadabra which angers BoJack resulting in him calling the L.A. Gazette to complain where The Closer reveals that he had never made a complaint until now only for it to be revealed that BoJack has only offered them Todd and Emily to use his house for their business not only because Mr. Peanutbutter's house is still full of spaghetti strainers for some weird reason but also to hide the fact that BoJack slept/had sex with Emily a few weeks prior so that Todd doesn't find out...pay attention to that little detail of BoJack having sex with Emily behind Todd's back because it's gonna play a part in one of the two episodes coming out next week and it looks like the papier-mâché isn't the only 'sticky situation' that BoJack has landed himself into so far this season if you know what I mean while The Closer in this episode acts more like a therapist for BoJack in getting him to realize his mistake in what could cost him the only friendship that he has ever had in recent years as well as his chances of winning an Oscar when it is also revealed he had sex with his publicist as well!

'The Aftermath Of Margo Martindale'-for those who don't remember from back in Season 2's "The Shot", Character Actress Margo Martindale became a fugitive of the law while helping BoJack and ex-Secretariat director Kelsey Jannings steal a crucial shot for the film in Yorba Linda behind producer Lenny Turteltaub's back and it is here where we finally get to see what happened to her after the events of that episode as she is seen taking refuge in BoJack's boat that he brought home ever since the events of 'Escape From L.A.' after doing a run of an obscure Tennessee Williams play at the La Jolla Playhouse before being called 'a talent to watch' by the San Diego Union-Tribune thus prompting her to seek shelter in BoJack's boat which she eventually steals along with Todd's

papier-mâché head after being nominated for an award
CONS:
Overall, 'Stop The Presses' 'cause this episode was just the rebound that Season 3 of BoJack Horseman needed in order to get back on track again in the race for the Oscars...we may still have a fair share of adult humor mostly relying on sex, but it's all to set up what's to come over the next few episodes and that is why I'm giving 'Stop The Presses' a rating of an 8 out of 10
--------------------------------------------------------------------------------------------------------------------------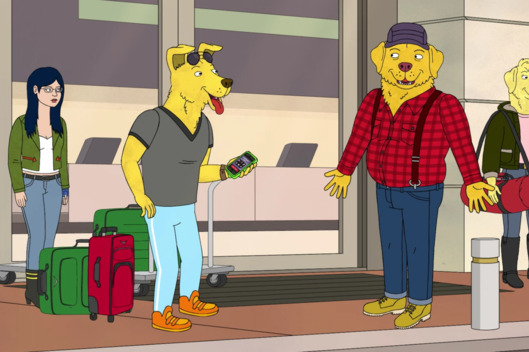 Season 3, Episode 8: Old Acquaintance
Written By Raphael Bob-Waksberg, Alison Flierl and Scott Chernoff
When we last left BoJack Horseman, he had received some sound advice from The Closer when he called to have his newspaper subscription cancelled after not saying a word about it for six months to hide the fact that BoJack had sex with Todd's high school crush Emily out of fear he might lose Todd as a friend in order to let him and Emily set up their female Uber business at his house after abandoning a
papier-mâché head project to stop something from stealing their food...and while BoJack is still in the race of the Oscars for 'Secretariat', his future may be starting to look up after all when he meets an 'Old Acquaitance'. Let's take a look...
OLD ACQUAINTANCE:
While BoJack is up for a role in a David Pincher film, Diane meets Captain Peanutbutter and Todd makes a series of business decisions
'Carolyn VS. Gekko VS. Kelsey'-if you guys remember from way back in the early days of the series, Princess Carolyn and Vanessa Gekko have been involved in one of the biggest rivalries that Hollywoo has ever seen with both of them competing against each other trying to be the better agency in Hollywoo especially when it comes to this episode where Princess Carolyn is trying to sell the idea of BoJack Horseman being the replacement lead in the David Pincher film 'Flight Of The Pegasus' while Vanessa Gekko and Rutabaga trying to get Chuff Hollister as the replacement lead immediately after Rutabaga promising his pregnant wife that he'd be there for her in her time of need...in the meantime, it is revealed that ex-Secretariat director Kelsey Jannings who despite never wanting to see anyone again asks BoJack to be in her movie 'Jelle Belle' to secure funding for a real movie and that despite while he won't star in the movie will do something meaningful unlike with 'Flight Of The Pegasus' to which BoJack agrees only to not get in either movie when his agent keeps demanding more money. Speaking of which, next topic!

'Ethan Around'-through a phone call that brings back Sarah Lynn as she asks BoJack if she has heard about the Horsin' Around sequel 'Ethan Around', BoJack is offended that he hadn't been contacted yet and it is here we discover that it was just an idea that Bradley Hitler-Smith wasn't actually trying to get made but rather a way of saying that he's coming to Los Angeles and discuss it with a now invested BoJack as the sitcom stage has been calling him all these years...but it apparently isn't calling the right number for BoJack's ruthless publicist Ana who wants BoJack to accept the replacement lead role in 'Flight Of The Pegasus' as it will help make BoJack look like an actor and not just a movie star thus putting BoJack on the spot since he doesn't want to let his old friend Bradley down, did I forget to mention how much I am not a fan of Ana in this season of BoJack?!

Captain Peanutbutter-not only do we get some payoff from what had been discussed a few episodes back in terms of Diane and Mr. Peanutbutter visiting his family on the Labrador Peninsula, but it is here where we meet Mr. Peanutbutter's five minutes older brother Captain Peanutbutter who is voiced by none other than Grammy winning singer-songwriter 'Weird Al' Yankovic who you may remember also recently came back to voice Cheese Sandwich in the final season of My Little Pony...and let me just say that despite not being able to hide his recognizable voice, 'Weird Al' was a perfect choice to voice Captain Peanutbutter since his voice for the character is almost identical to that of Mr. Peanutbutter's thus making it easier to see the resemblance and making it a great contrast when he starts talking to Diane about how every labrador on the peninsula will die one day if they don't believe in the soul since life is precious...as the Peanutbutter Brothers said, 'nothing bad ever happens on the Labrador Peninsula'...right?!
CONS:
Overall, I didn't think this would happen again during Season 3 of BoJack Horseman...but 'Old Acquaintance' managed to keep the quality of this week's episodes consistent with another 8 out of 10 rating-it may not be the levels of greatness that we received at the start of the season, but we're slowly but surely getting back on track again. But all I can say is that we're in for one hell of a doozy with the final four episodes of the season as tempers will rise and friendships will fall...see you all next week!
Stop The Presses/Old Acquaintance-8/10
SEASON 3 OVERALL RATING: 7.5/10