Season 3, Episode 9: Best Thing That Ever Happened
Throughout this third season of BoJack Horseman, we have seen a heavy focus on relationships whether they be with friends like Todd and his high school crush Emily who feared of hurting her friend's feelings if she told him about her having sex with BoJack or with significant others like with Diane Nguyen and Mr. Peanutbutter who had trouble putting their thoughts together on how much they truly loved each other until Diane got high at a client's party and was about to have children until they both decided to abort...but what about BoJack's previous relationship from long ago with Princess Carolyn, what's the story behind that and what happened that led them to where they are today? Let's find out and see if this relationship truly was the 'Best Thing That Ever Happened'!
BEST THING THAT EVER HAPPENED:
BoJack meets Princess Carolyn at Elefante leading to a night of soul-searching as they help the staff impress a food critic.
PROS:
'The Fall Of BoJack & The Rise Of Carolyn'-being based on another flashback to the days of BoJack's relationship with Princess Carolyn just like earlier in the season with 'The BoJack Horseman Show', this is an episodes that delves into the concept of abusive relationships: while

Bojack loves Princess Carolyn as much as is possible for him and Princess Carolyn keeps believing she can change BoJack for the better since she always forgives him no matter how badly he messes up and yet BoJack doesn't appreciate it no matter how much Princess Carolyn does for him asking for more and blaming her for things that go wrong since he believes that people are the problem for why 'The BoJack Horseman Show' was a disaster for insisting on using a mock-umentary format which was already an overused trope during that year...the cold hard truth is that separating their relationship is what was good for both of them but neither one recognized it until too late, but this mindset of BoJack blaming others for his own actions would soon come to bite him the flank as we'll discover in our next episode!
CONS:
Overall for an episode about abusive relationships, 'Best Thing That Ever Happened' certainly did its job in showing how sometimes romance isn't all that it's cracked up to be since it takes understanding and communication to make a long lasting relationship and that is why I'm gonna give this episode a rating of a 10 out of 10...but what BoJack doesn't realize is that his falling out with Princess Carolyn will soon lead to him about to lose everything as we're about to find out in what is easily one of the most talked about episodes of the entire series. See you next time...
--------------------------------------------------------------------------------------------------------------------------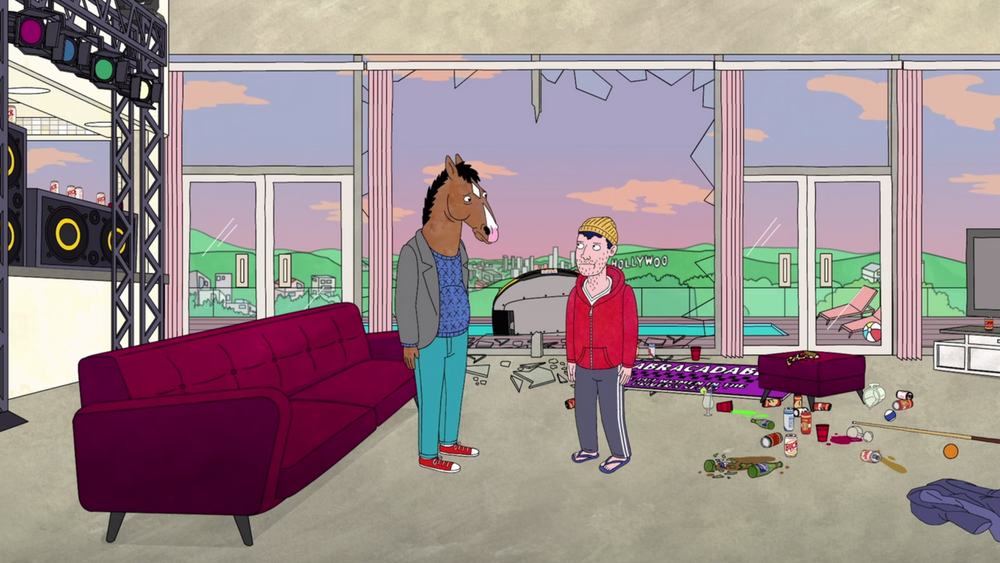 Season 3, Episode 10: It's You
Written By Vera Santamaria
When we last left BoJack Horseman, what was supposed to have been a long lasting romantic relationship with his agent Princess Carolyn had finally hit the skids when he started to blame her for everything bad that happened to him especially with the critical disaster of his overused trope of a mock-umentary style television series...and as if his belief of other people being the cause of his problems wasn't driving others away already, what BoJack doesn't realize that this behavior of his is about to cost him everything as we're about to find out in one of the most talked about episodes of the entire series simply titled 'It's You'. Let's take a look...
IT'S YOU: While

Mr. Peanutbutter announces the Oscar nominees, BoJack surrounds himself with admirers but his real friendships are falling apart
PROS:
'The Life Of An Oscar Nominee'-despite BoJack finally succeeding in getting nominated for an Oscar with his movie 'Secretariat', he unfortunately still feels the same...but after some really bad advice from his ruthless publicist Ana (who I am still not a fan!), BoJack decides to continue living the fake fantasy that is stardom and instead celebrate this achievement in his life by partying like it's 1982 which apparently was the year that Prince released '1999' with a huge party full of drinking and loud music where we also see that BoJack is receiving a plethora of free stuff because of his nomination from complimentary Rolex to a giant chocolate Oscar to famous DJ David Guetta...while I am a fan of the chili cheese fountain since I love me those chili dogs from places like 7-Eleven and Hardee's, but we can see that Diane is genuinely concerned that BoJack might be sending himself into a spiraling depression of which ultimately happens when BoJack lets the celebrity life cloud his mind as well as his judgement and start destroying not only his house but all of the relationships and friendships that he has had throughout the series one by one from his ghostwriter Diane to his publicist Ana as well as Mr. Peanutbutter who even tries to assure BoJack that everything will be okay even without his Oscar and the worst of all is yet to come!

'Life Without BoJack'-while BoJack continues to walk over everybody and blame them for his actions yet still getting what he wants, it would appear that the people who used to care about him in his life are both getting on well and poorly without him at the same time from Mr. Peanutbutter's brother Captain Peanutbutter having a successful surgery for his twisted spleen to Diane becoming more and more like BoJack ever since she returned to Hollywoo from Cordovia to crash at his house to Princess Carolyn getting a call from Ralph Stilton who admits that he can't stop thinking about her even after meeting a ballerina with a twisted ankle who didn't speak a word of English in what was a very clever reference to the kids' series 'Angelina Ballerina'...and as we will soon discover next week in our final episodes of Season 3, removing BoJack from their lives may have been the 'Best Thing That Ever Happened'-see what I did there?

'You Need To Be Better'-in keeping with the golden rule of the series of which the word 'fuck' can only be used once per season only when BoJack has permanently ruined a relationship, Todd finally finds out about how BoJack had sex with his high school crush Emily behind his back which led to Emily abandoning Todd with their female Uber business out of fear that she might hurt Todd's feelings if he were to find out resulting in Todd finally snapping at BoJack for constantly walking over everybody while still getting what he wants by finally telling him that he 'can't keep doing shitty things and then feel bad about himself like that makes it okay' while also cutting off his apology by telling BoJack that all things that are wrong with him have nothing to do with alcohol or drugs or anything that happened to him in his career or as a kid but rather that he is the source of all his problems...he's lost his mentor, he's lost Charlotte and now he's lost the best friend he's ever had in recent years! Just...fuck, man-what else is there to say?
CONS:
Overall...why do I always love the episodes where BoJack has permanently ruined relationships, but 'It's You' manages to be quite a trip on the feels train as BoJack has now lost everything he worked so hard to achieve: his fame, his admirers and now his friends...and a powerhouse of an emotional episode like this definitely deserves a rating of a 10 out of 10, but will BoJack be able to make things right again with everyone he has wronged before or has his career truly hit rock bottom? All I can say at this point is...see you all next week as we bring Season 3 of BoJack Horseman to a close!
Best Thing That Ever Happened/It's You-10/10
SEASON 3 OVERALL RATING: 8/10