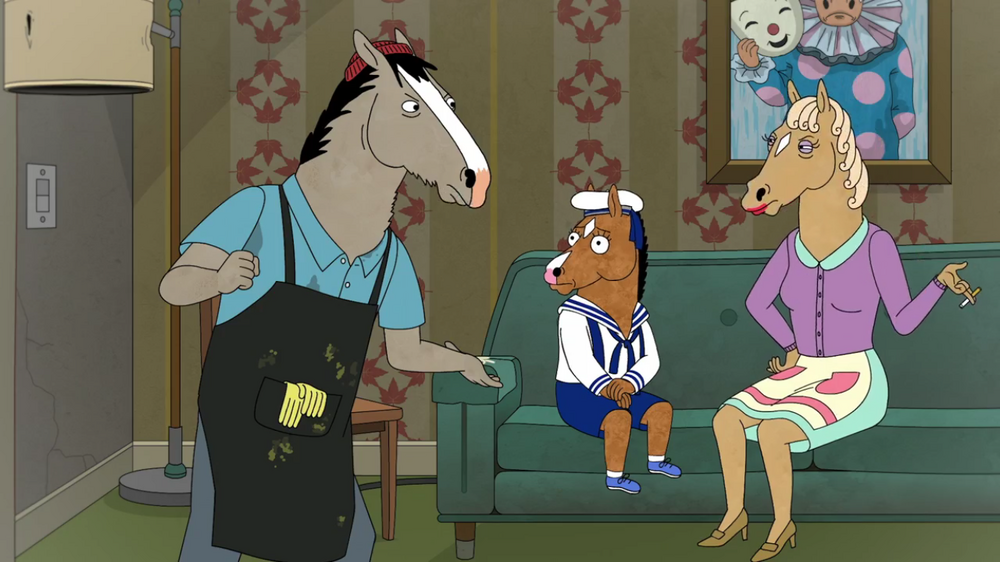 Season 4, Episode 11: Time's Arrow
In every television series and movie, there is always that one character that everybody hates whether they're just annoying like Charlie and the Logging Locos from 'Thomas & Friends' or one-note characters like Diamond Tiara from 'My Little Pony' not counting her 'plot device' reformation that she had back in Season 5 of the series which might I add never got a follow-up...you would think that BoJack Horseman himself would be the one character that everyone hates from 'BoJack Horseman' since that's the whole point of the series, but that title in my opinion goes to his estranged mother Beatrice Horseman since she has proven time and time again that she is not only neglectful and bitter towards our main character but also verbally abusive in finding anything she can to ruin his life especially recently when she slipped Chub-B-Gone pills into Hollyhock's coffee thus ruining the one thing BoJack had in his life that he didn't ruin himself which proved to be the final straw for our hero. Can BoJack and Beatrice finally make amends with each other as the old mare gets closer to her death bed? Let's find out as we get ready to shoot 'Time's Arrow'!
TIME'S ARROW:
In 1963, young socialite Beatrice Sugarman meets the rebellious Butterscotch Horseman at her debutante party.
PROS:
'Lovin' That...Michigan Lifestyle?'-picking up right where we left off from previously in 'Lovin' That Cali Lifestyle' with an enraged BoJack taking his estranged mother Beatrice to a new nursing home with the worst available room after finding out that she had been slipping weight loss pills into Hollyhock's coffee thus ruining the one thing that BoJack had in his life that he didn't ruin, we see through glitched flashbacks of how Beatrice was ridiculed endlessly about her weight by an elite society of extremely young women led by a goose girl accompanied by two Asian girls which explains why she slipped those weight loss pills into Hollyhock's coffee previously to meeting her rebellious husband Butterscotch at her debutante party all the way up to their chaotic life as both have become bitter as all hell while raising their son BoJack as well as finally discovering how Hollyhock was conceived and ended up in the state that we saw her in in both the Season 3 finale and at the start of her arc in Season 4...and then just when you think that the episode is gonna end the same exact way that 'Lovin' That Cali Lifestyle' did, we actually see what was a very heartwarming ending as Beatrice becomes frightened by her new surroundings and BoJack despite initially being blunt with her and about to give his mother the 'F--k You, Mom' speech from 'Thoughts And Prayers' eventually hesitates and narrates a pleasant scenario which pleases his mother. Looks like the two enemies are finally starting to reconcile...

'Henrietta or BoJack'-what seemed to be a recurring thing throughout the duration of Season 4 at least in terms of Beatrice Horseman's character arc was her constantly calling her son Henrietta due to her battle with dementia, but it is in this episode where we finally see why she keeps calling BoJack that name since she remembers the household maid Henrietta Platchkey who was not only the former mistress to Butterscotch but also the biological mother of Beatrice who she conceived with Butterscotch (bestiality much?)...even though Henrietta's face is scribbled out throughout the entirety of her appearances in this episode and while not much is known about this character since her only appearance in the entire series is in this episode, she always spoke in a sweet and friendly manner while acting pleasant and innocent while also being somewhat nervous and introverted. Though she is a very kind and sweet woman, she appears to be naive and not so bright of a foil to the sharp and cold Beatrice as she displays the tendency to point out the most obvious from describing paintings as 'T.V. without all of the talking and music' and her love of books because 'the words tell stories' of which Beatrice finds this somewhat annoying as it does not make for a very stimulating conversation
CONS:
Overall in what can be described as both a followup to 'Lovin' That Cali Lifestyle' as well as a continuation of 'The Old Sugarman Place', 'Time's Arrow' really decided to shoot for the stars in making this episode one of if not the best from Season 4 of BoJack Horseman in helping us get to know Beatrice Horseman better than we ever have before so far...BoJack is finally at peace with his estranged mother, and for that earns a rating of a 10 out of 10
--------------------------------------------------------------------------------------------------------------------------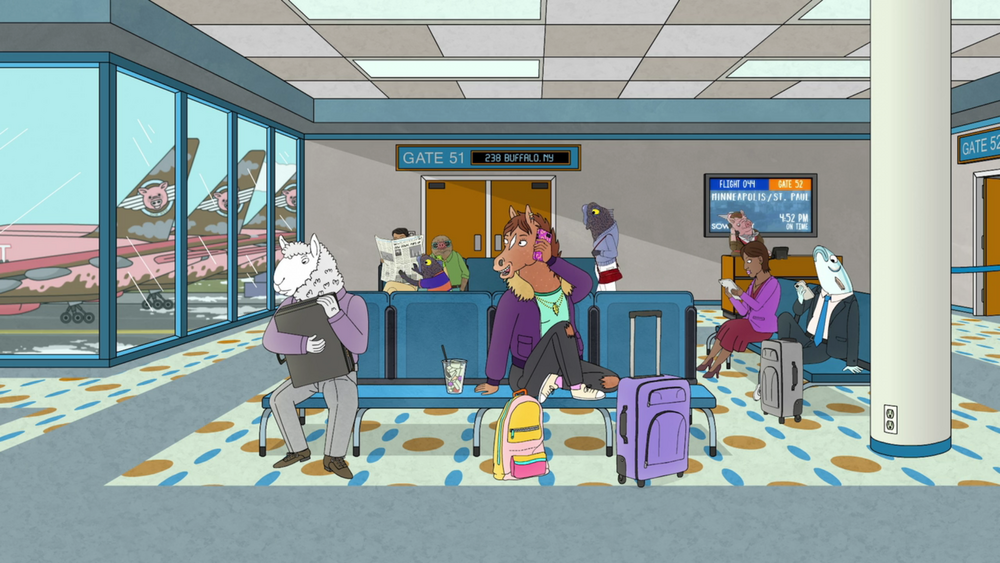 Season 4, Episode 12: What Time Is It Right Now
Written By Raphael Bob-Waksberg
Well, we've certainly been through an eventful season of BoJack Horseman from Mr. Peanutbutter running for governor to BoJack meeting long lost family in the form of his adopted sister Hollyhock while dealing with his estranged mother Beatrice all while giving its usual social commentary on subjects like gun violence in a war between Princess Carolyn and Diane as well as discovering what it's like to be an asexual for someone like Todd...and now it's time for what has been a really heavy and emotional season to come to an end as we take a look at our final episode of Season 4 as we ask the question of 'What Time Is It Right Now'.
WHAT TIME IS IT RIGHT NOW: While

Princess Carolyn pitches Philbert to company execs, Todd gets a better business idea and BoJack comes to a realization about Hollyhock.
PROS:
'Beauty And The Beast'-considering that Mr. Peanutbutter's old house is completely destroyed because of his pro-fracking campaign which led to his fundraiser literally going underground, we see him and Diane getting a VR tour of their new home to which they absolutely love it and the latter stating that she's content with everything and happy that they can get back to normal after the election while stating over dinner that she always wanted a 'Belle Room' full of books like the one Belle received from The Beast in the Disney classic 'Beauty And The Beast' which in my opinion is one of the best animated Disney films of all time...and just when this 'tale as old as time' couldn't get any more romantic or heartwarming, Mr. Peanutbutter does just that in giving his wife what she wants that he got the contractor to build after they return from their vacation to Hawaii despite the traffic trouble of crossing the bridge that Mr. Peanutbutter had built during his campaign as well as staying at the cheap motel bu the gas station instead but yet Diane feels like their marriage is like a magic eye poster while Mr. Peanutbutter might lose another marriage in the same that that Katrina and Jessica Biel did with him. Will this romantic tale as old as time finally hit the skids between Diane and Mr. Peanutbutter after four seasons together, looks like we'll have to wait until Season 5 to find out if they are truly meant to live happily ever after...

'Remembering Hollyhock'-after dropping his estranged mother Beatrice off at her new nursing home, BoJack tries endlessly to call Hollyhock and let her know what really happened yet to no avail as her father keep hanging up on him...but just when all hope is lost, BoJack remembers the time when Hollyhock was trying to figure out a picture to send to the adoption agency and mentioned an Saturday Night Live sketch called 'Chandler's List' thus rushing back home where he finds a pink envelope which turns out is the mail that Hollyhock sent returned to her mother Henrietta who we met in the previous episode who sadly no longer lives at the address on record and BoJack goes to Hollyhock's fathers to explain the situation and pleads for Hollyhock to know the truth of which they begrudgingly agree unless he leaves. But what really sold this story for me was the final scene where Hollyhock and BoJack are calling each other from the airport to which Hollyhock states that s

he doesn't need another dad as she has eight of them but she's never had a brother of which makes BoJack for the first time smile for real and he is deeply touched by finally making a loving family connection, something he never really had before...right when the scene ended, I could help but go 'awwww!' since it looks like BoJack finally found something in his life that he didn't ruin and things are actually starting to look up for our hero but we'll have to wait until Season 5 to find out

CONS:
'Rabid Clowns'-after going on another drinking bender and crashing her car while pitching Philbert to executives, Todd tries to cheer up Princess Carolyn saying that she doesn't need a family to have a child and the only way out is lifting her spirits...but their conversation is cut short when the clowns from Todd's failed dentistry business that got released into the woods start to act strange as well as starting to attack them because one of them got infected with rabies from a raccoon which led to all of them getting infected as a result thus giving Todd a new idea for a business as to not getting in trouble with the Better Business Bureau after it is revealed that Yolanda doesn't run much and needs to get in better shape by making 'Run For Your Life: Escape The Rabid Clown Dentists' in order to help people get in better shape...not only is that idea even more terrifying than his last once since not only are people terrified of clowns but also afraid of getting bit by venomous animals, but they are also in the woods which in a way is a very terrifying allusion to 'Stephen King's IT' when you see Pennywise standing on the side of the road in the woods with a bunch of balloons! Todd, you may be wacky in your creative ideas...but you need to have ideas that make sense, dude-at least this sets up events for Season 5 with Todd being in a relationship with Yolanda!
Overall, the time of 'What Time Is It Right Now' struck the final hour of BoJack's fourth season with a really great conclusion to what has been a really heavy and emotional season dealing with the concept of family relationships thus I am going to give the Season 4 finale of 'BoJack Horseman' a rating of a 9 out of 10 as well as give Season 4 of BoJack Horseman an overall rating of an 8.25 out of 10...a little better than Season 3, but still not quite as good as Seasons 1 and 2. With that said, I'm True Blue and I'll see you all soon in my reviews for Season 5!
Time's Arrow/What Time Is It Right Now-9.5/10
SEASON 4 OVERALL RATING: 8.25/10