Nearly twenty years ago, a marine biologist by the name of Stephen Hillenburg would create one of the most influencial and groundbreaking cartoons of all time by the name of 'SpongeBob Squarepants'. There is no doubt about it that SpongeBob has defined a generation of humor...it was slick and clever while being satirical with unforgettable character and it left its mark forever on television history being ahead of its time. But with how long that the series has been on the air, many of us really wish it would end so that we can talk about what a great impact it had on comedic cartoons as opposed to asking why the hell they're beating a dead seahorse with another dead seahorse. Either way, we still end up saying the exact same thing: wasn't 'SpongeBob Squarepants' funny? The answer is...yes, yes it was. Despite the fact that it has more than overstayed its welcome, we still can't forget what an entertaining and quotable and hilarious impact that the series has had on us. It has become one of the most influential shows in that it formed the sense of humor in so many people in the animation industry as well as online content creators. So many of us nowadays get our delivery, our writing, our performing and just our straight-up sense of comedy from the genius that was 'SpongeBob Squarepants', but again I must ask 'which episodes had the biggest impact...which ones were the most memorable, meaningful or just downright funny'? It's time to dive below the waves and travel to Bikini Bottom, these are the Top 10 Best 'SpongeBob Squarepants' Episodes!
Are you ready, kids?
Aye aye, captain!
I can't hear you!
Aye aye, captain!
Ohhhhhhh, who lives in a pineapple under the sea?
SpongeBob Squarepants!
Absorbent and yellow and porous is he
SpongeBob Squarepants!
If nautical nonsense be something you wish
SpongeBob Squarepants!
Then, drop on the deck and flop like a fish!
SpongeBob Squarepants!
SpongeBob Squarepants!
------------------------------------------------------------------------------------------
Hey, did you guys know that Mr. Krabs likes money? I do...because the show reminds us of that in every single episode that he appears in. But with that being said, I think that 'Kracked Krabs' among every other episode takes this concept of Mr. Krabs being cheap and just runs with it. It makes for an interesting story out of this fact instead of it being just a few jokes here and there and being yet another episode with a plot of Mr. Krabs doing things for money since it takes Mr. Krabs' cheapness to a whole new level in a very interesting way.
The plot is very entertaining and well thought-out of Mr. Krabs taking SpongeBob as his prodigy to a cheapskate convention and then having SpongeBob giving a testimony for Mr. Krabs to win the award for Cheapest Krab after being told to lie about how cheap he is resulting in him saying that Mr. Krabs isn't cheap...it's a clever story where the comedy is on point as well from SpongeBob trying to do the Krab Laugh to him trying to take his tip back from the muscular bellhop with the best joke being like I said earlier when SpongeBob is on stage trying to give a convincing testimony. There's also a very nice bond between Mr. Krabs and SpongeBob with Mr. Krabs seemingly like he genuinely wants to teach SpongeBob about his lifestyle...a nice mentorship between the two main characters that we don't see very often enough on the show and it seems like the characters actually like each other for once in what was easily some of the darkest days of the entire series
The new characters and the new location are also interesting as well...we've seen hotel rooms before, but this one in the conference center are a little bit different. Also, it's cool getting to see the designs of all the other crabs from Huford Bargainbottom to Dwight T. Wad. Oh, and about the moral of 'stealing is right and being cheap is good'...much like the episode itself, it's very clear that the show staff are exaggerating itself enough and I doubt that any kid would actually take this seriously.
'Kracked Krabs' is an episode that feels very much like it came out of Season 4 and would feel very much at home alongside 'Shell Of A Man'...it doesn't even feel like a rip-off or that they borrowed any elements. Even though it came out at a dark age, it is still quite a bargain of a great episode...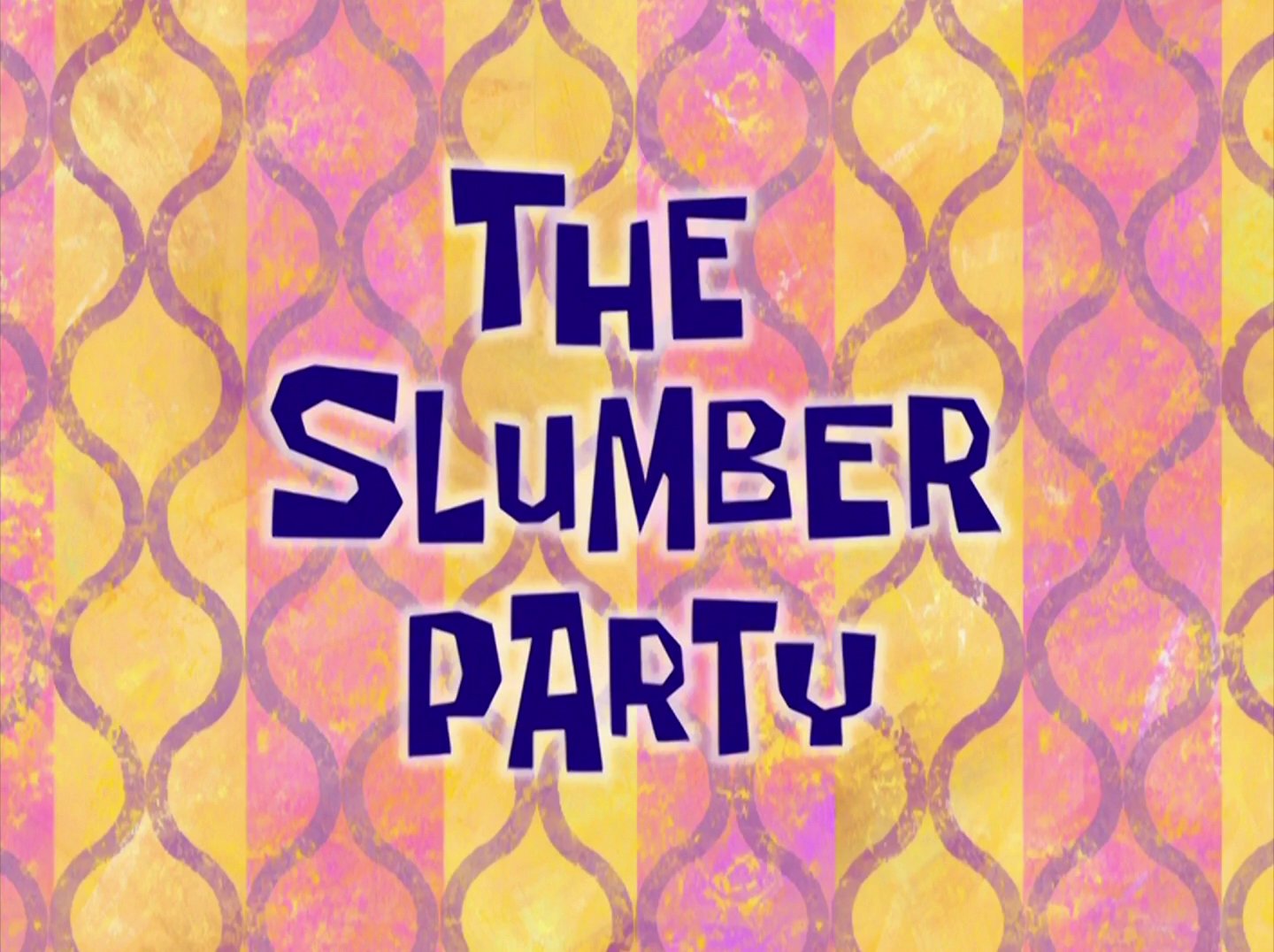 #9.) THE SLUMBER PARTY
Among all of the horrendous episodes that we were given in what is hailed as the worst season of the entire series, 'The Slumber Party' is the first episode in the entire season that I think has actually been really funny. Sure, I have liked episodes before this one ever came out...but I think that this episode is the first one that has enough comedy that it could actually rival most of the pre-movie episodes. Before you all start angrily typing away on your keyboards and crying 'Blasphemy!', let me explain...
There are a lot...and I do mean a lot of good jokes throughout the episode and I think that what makes it work in particular is how SpongeBob himself is snarky in the face of Mr. Krabs treating him horribly since he is just doing what he is told while making comments all along the way and he doesn't just sit there and take it like in a lot of episodes. But the biggest part about the comedy in this episode is the irony: Mr. Krabs comes and wrecks SpongeBob's house when he says that that is what teenage boys do after saying that no boys were allowed at Pearl's slumber party with her friends all while he is constantly trying to smuggle a boy in with the boy in the form of SpongeBob ending up Mr. Krabs' house. Mr. Krabs may not be bored with an innate sense of irony, but I sure am!
Another thing that I really do like about this episode is that it is one of those plots where a character has to do wacky schemes to try and get in somewhere...much like in the episode 'No Weenies Allowed'-they even pull the same gag pretty much in this episode as in that one with SpongeBob's doppelganger. I like these particular plots and I think that they fit very well for a gag-based show like SpongeBob with every one of his attempts has something funny to it, but I won't spoil the punchline for any of them if you haven't seen this episode yet.
But I think the highlight of the entire episode is Pearl herself-this is easily my favorite of her appearances throughout the first six seasons of the show since the way that she was used in this episode works even better than her appearance in the episode 'Bossy Boots'. She acts like a teenage girl and her struggling relationship with Mr. Krabs comes from a very real place. Mr. Krabs isn't even a jerk here for not trusting his teenage daughter since this is something that every father would hesitate to do and the fact that he is a cheapskate hardly comes into play since he is instead just overprotective of his stuff only to get his 'just desserts'.
'The Slumber Party' is not just a good episode, it's a great episode that is sure to leave you with happy dreams as you slumber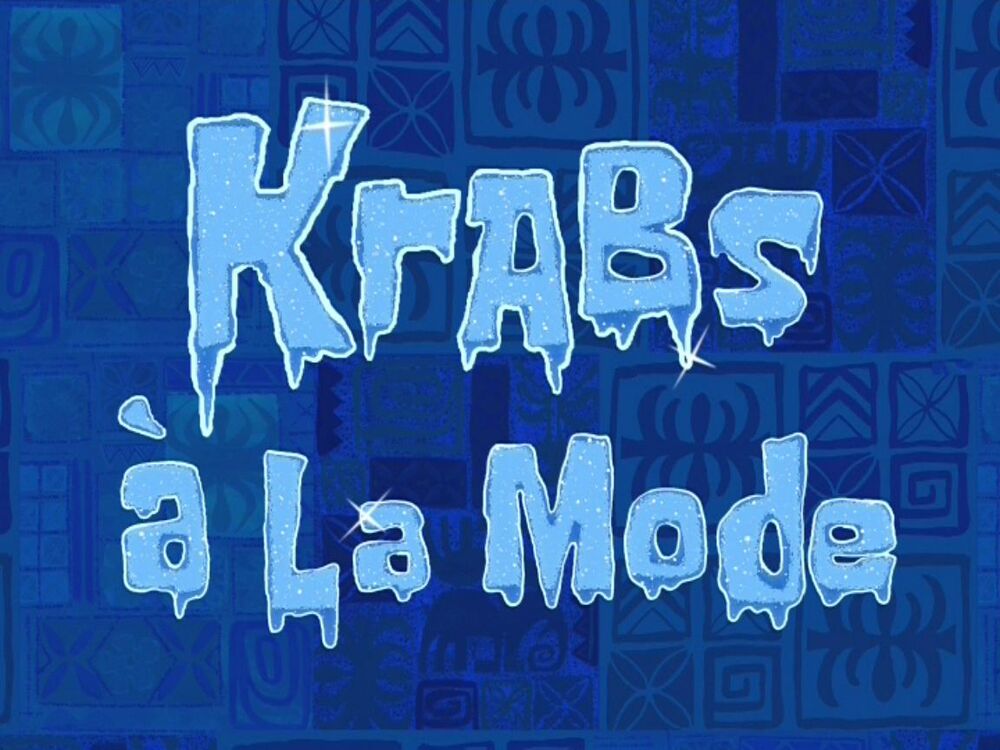 #8.) KRABS A LA MODE
This episode...is fantastic and I can not sing enough praises for this one episode alone! It is so wonderful...everything about this episode is done absolutely right here: it's funny, it's got good action, everyone is in character and finds an awesome role in this new frozen wonderland. It's zany, it's wacky, it's fun, the name is even named off of a type of pie...I mean, what else could you really want in a SpongeBob episode like this?
From start to finish, it just feels like an action-packed comedic ride and the energy is kept up throughout the entire thing with not a single low point to be found...it's certainly one of the best post-first movie episodes that I have ever seen so far and can definitely compete with the pre-movie seasons. Even the animation looks great since all of the characters are constantly in motion and the frozen background looks great...heck, the characters even have a shadow on the ice and it looks really cool!
It might be an understatement, but 'Krabs A La Mode' is a definitely a tasty treat of an episode...it may be cool to the touch, but the amount of comedy in it is sure to warm you up!
#7.) UNREAL ESTATE
'Unreal Estate' may not be one of the most original ideas on the show since we have seen SpongeBob and Patrick move away in an episode from the season before this episode came out and Squidward has either moved away or tried to move away a few times already. But despite not being original, 'Unreal Estate' does in fact do something very different with the concept because the story is mostly about Squidward tricking SpongeBob into getting out of his house while they go looking for new houses. It's a little different from when SpongeBob moved into the Krusty Krab or into the garbage behind the Krusty Krab, so it definitely does its own thing.
But I wouldn't exactly say that the story is the strongest factor in 'Unreal Estate' since we all knew that there was going to be an obvious twist at the end about the new house being in fact a rocket ship instead of being the perfect house for Squidward...but the problem here is that the rocket ship was never foreshadowed with any explanation as to why it's there and there was never a joke about rocket ships at all throughout the entire episode. The strongest factor is in fact the comedy especially during the first half with there being some good bits with the uncontrollable hose as well as Gary fighting Squidward when he is grinding pepper all over SpongeBob's house. Additionally when they start looking for houses, the joke of SpongeBob's opening titles sequence is changed with each house that he is looking at while not original since it was done back in 'Truth Or Square' still made me chuckle and I really love the physical comedy of Squidward getting smashed in the head by the house of drawers.
The comedy may not be amazing, but it definitely gave more of an effort than some other episodes around the same time period in order to make 'Unreal Estate' certainly one to help move SpongeBob into the modern age
#6.) MY LEG!
Fred The Fish is one of the most famous background characters on the show-most notably for shouting the phrase 'My Leg!' which has become one of if not the most famous running gag of the entire series. It's not often that we get an episode focused on a background character, but this episode tried something new and it really paid off!
Not only do we get a lot of creative scenarios for Fred to injure his leg in the opening, but it also allows newcomers to the series to become familiar with this popular running gag. Truth be told, the gag doesn't really get old in the beginning nor when SpongeBob is constantly putting his life on the line so that Fred's leg can stay permanently healed because each scenario is 'leg-itimately' amazing and it's clear that most of this episode isn't supposed to be taken too seriously or have a heavy story. Having a cartoony episode like this isn't a bad thing since it's nice to see a simple storyline and it's clear as to why the show staff went with Fred since he is a minor character and it would be weird to see him have a big role for something other than his leg. However as the episode goes on, there are times when the characters constantly shouting 'MY LEG!' really wasn't necessary and I feel like this can be a turnoff for those who are not fans of the gag...but when you're someone like me who constantly uses the gag in various videos on their YouTube channel, it doesn't come off as annoying at all since the show staff know how popular the running gag is and that is why they're going all out with it instead of running the gag into the ground.
After it is revealed that Fred likes getting his leg injured since he is in love with a nurse at the hospital, the second half of the episode become a 'leg-endary' turn of events as SpongeBob starts to get Fred into situations where his leg would be injured...and let me just say how awesome it is that we got to see the return of the Alaskan Bull Worm returned via one of these scenarios-it may have been a small scene, but it's so great knowing that any character from the golden age of the series can come back at any moment.
'My Leg!' is a modern classic that is fast-paced and has a good amount of gags not involving Fred screaming about his leg in order to make it one of the best post-sequel episodes of SpongeBob of all time...if you don't take this episode too seriously, you'll have yourself a good time. Everybody together...MY LEG!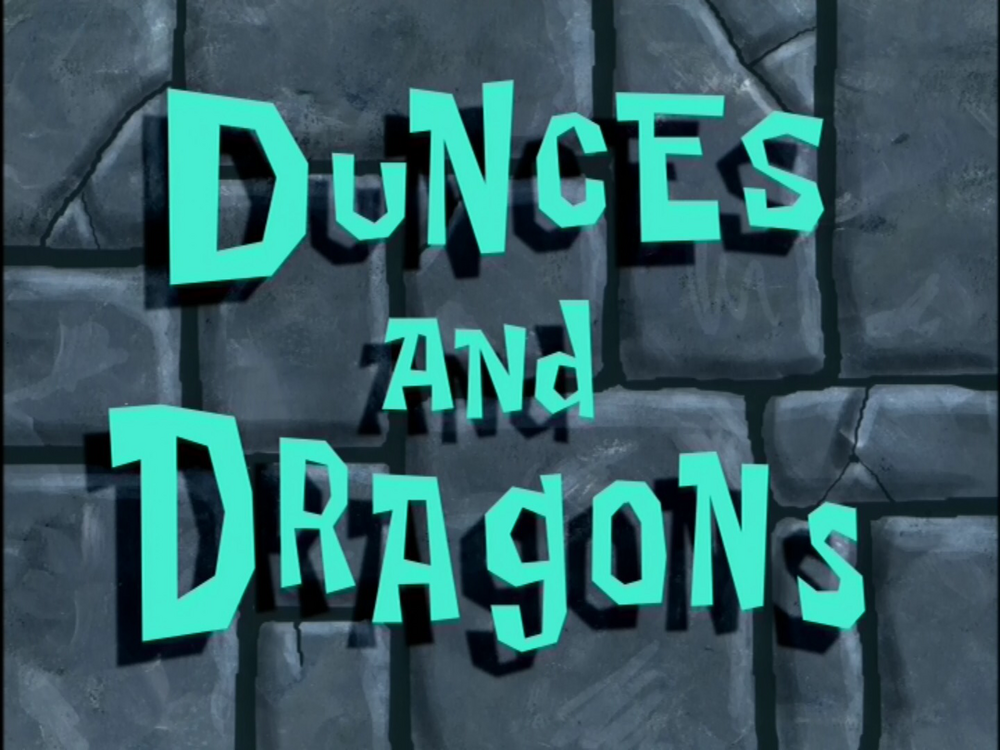 #5.) DUNCES AND DRAGONS
Knowing that 8.6 million people tuned in to watch the premiere of something that is basically an underwater version of being at a Medieval Times restaurant is already really impressive on its own, but the episode itself shows exactly why it brought in this big of a crowd...this episode is amazing-not only is it a good episode, but it is also one of the best episodes of the entire series!
Not only is 'Dunces And Dragons' genuinely funny, but it also gets the medieval parody right and it tells the most epic story that could ever be told in an episode of SpongeBob. Whereas most people who watch SpongeBob only watch it for the comedy which is true since they do that with this episode, they provided a somewhat epic story along with foreshadowing to the solution in the beginning as well as during the middle and end with trials and unexpected parallels long the way...I'm hardpressed as to finding something about 'Dunces And Dragons' that I didn't like, maybe the ending is a bit amibiguous with Squidily resulting in a lame joke but everything else about the episode is just so amazing that you wish that it had been extended to an hour-long episode.
It's funny, it's epic, it gets the time period right...'Dunces And Dragons' is quite a blast from the past that definitely knew how to survive the dark ages!
#4.) IT'S A SPONGEBOB CHRISTMAS!
'Christmas Who?' may have already set the bar in terms of Christmas specials for SpongeBob, but 'It's A SpongeBob Christmas' blew those expectations that many of us had out of the water and sky high since there are so many great things to love about it: the phenomenal songs, a great story with a handful of funny gags and a wonderful guest appearance by John Goodman all while nailing the spirit of the holiday season.
It may not be one of the funniest episodes of the series, but the jokes that they have made me laugh hard-mostly coming from the little things like Squidward's 'de-jerkification' and SpongeBob's taste buds as he is eating the tainted fruitcake or even when Sandy is analyzing SpongeBob for signs of jerky behavior and it turns out that he is made of jello. Most of the jokes are tied to the visual style which is pretty awesome since you couldn't really tell those kinds of jokes in other episodes and they have a lot of fun with the medium that they have chosen for the episode. And the songs...good lord, the songs are amazing and 'Don't Be A Jerk, It's A Christmas' has become one of my favorite Christmas songs of all time even before I even saw the episode which was pretty much based off of the song alone. It's such a great and weird message of saying not to do these jerky things when Christmas comes around instead of saying for everyone to be happy.
But the best thing about 'It's A SpongeBob Christmas' has to be the stop-motion animation...and I absolutely adore it-while all of the other things that I mentioned before are fantastic, the stop-motion animation is what keeps me coming back to this special time and time again during the holiday season and you even notice something new about it every time that you watch it from the textures to things happening in the background.
The character models are also something that I love about this special from SpongeBob being an actual sponge and Plankton being made of Styrofoam giving him a rough edge...definitely not a standard design that I would've expected, but I still really love how creative it is.
'It's A SpongeBob Christmas' is an amazing episode that is sure to be the perfect present under the coral tree this holiday season...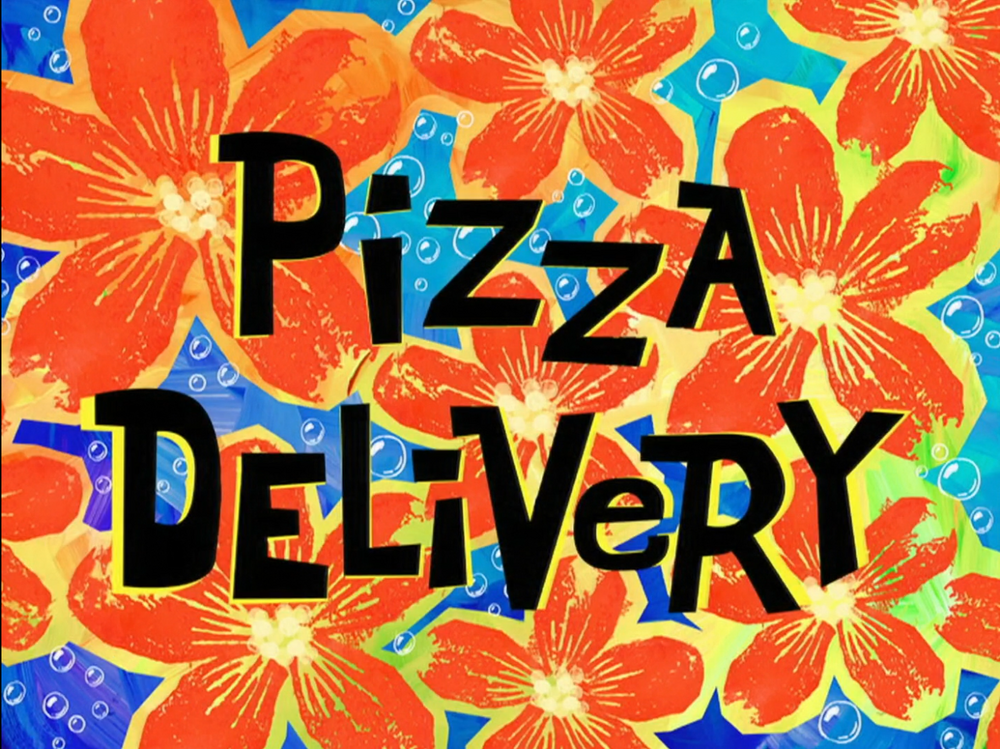 Out of all the adventures that we went on with SpongeBob in the first season of the show, 'Pizza Delivery' was easily the one that stood out among the rest and for good reason as there are so many memorable lines and sequences spread throughout the runtime with gag after gag that hit the perfect mark every time...one of the funniest episodes of the series and quite a nostalgic one to look back on!
Everybody together...the Krusty Krab Pizza is the pizza for you and me!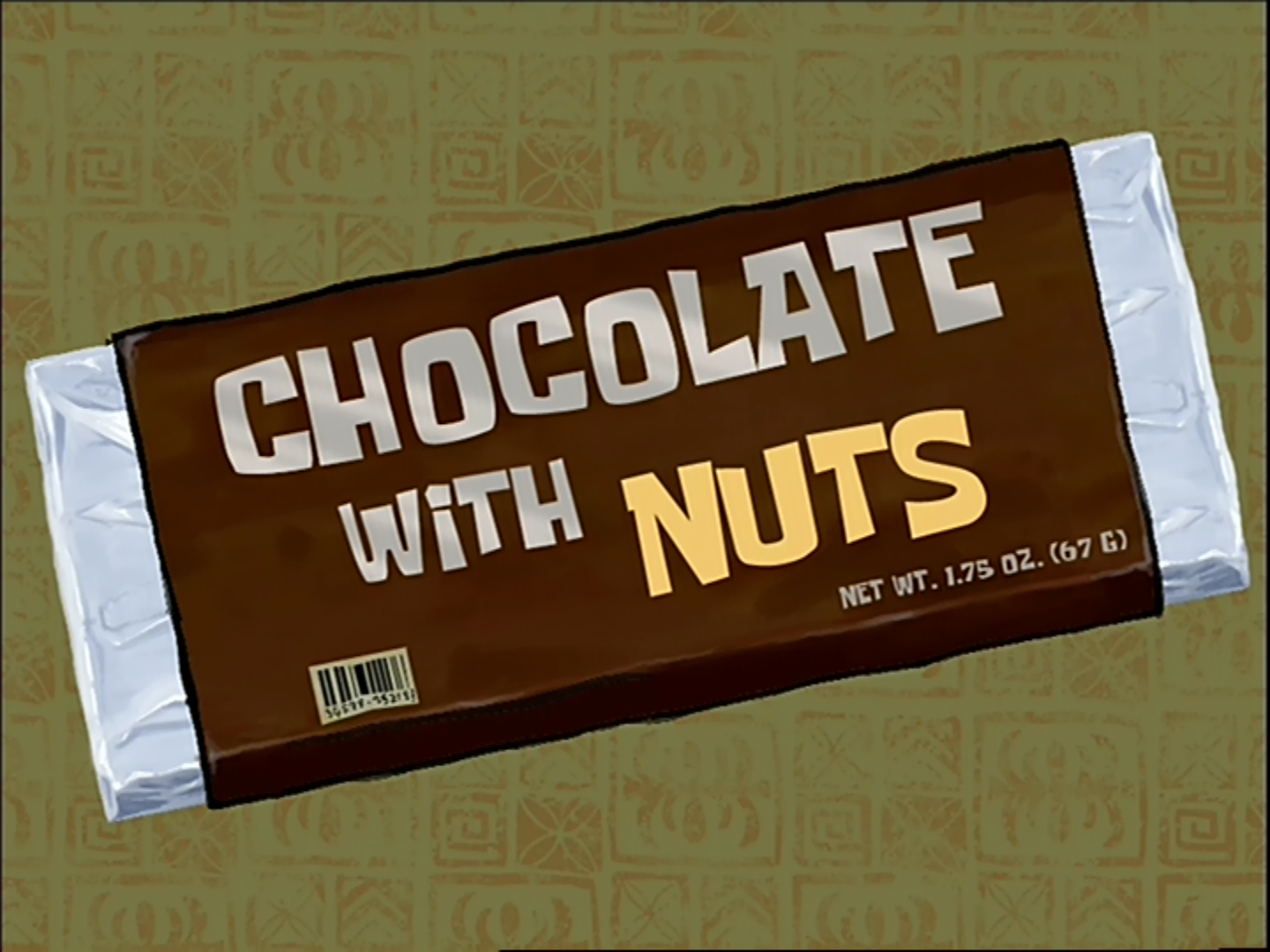 #2.) CHOCOLATE WITH NUTS
What a phenomenal episode this was...I'm serious, 'Chocolate With Nuts' is right behind 'Band Geeks' in my Top 5 Favorite SpongeBob Episodes and for good reason!
All of the gags...all of the gags and memorable quotes are gut-busting hilarious and it spawned a plethora of memes online!
What else can I say except...CHOCCCOLAAAATEEE!!!!!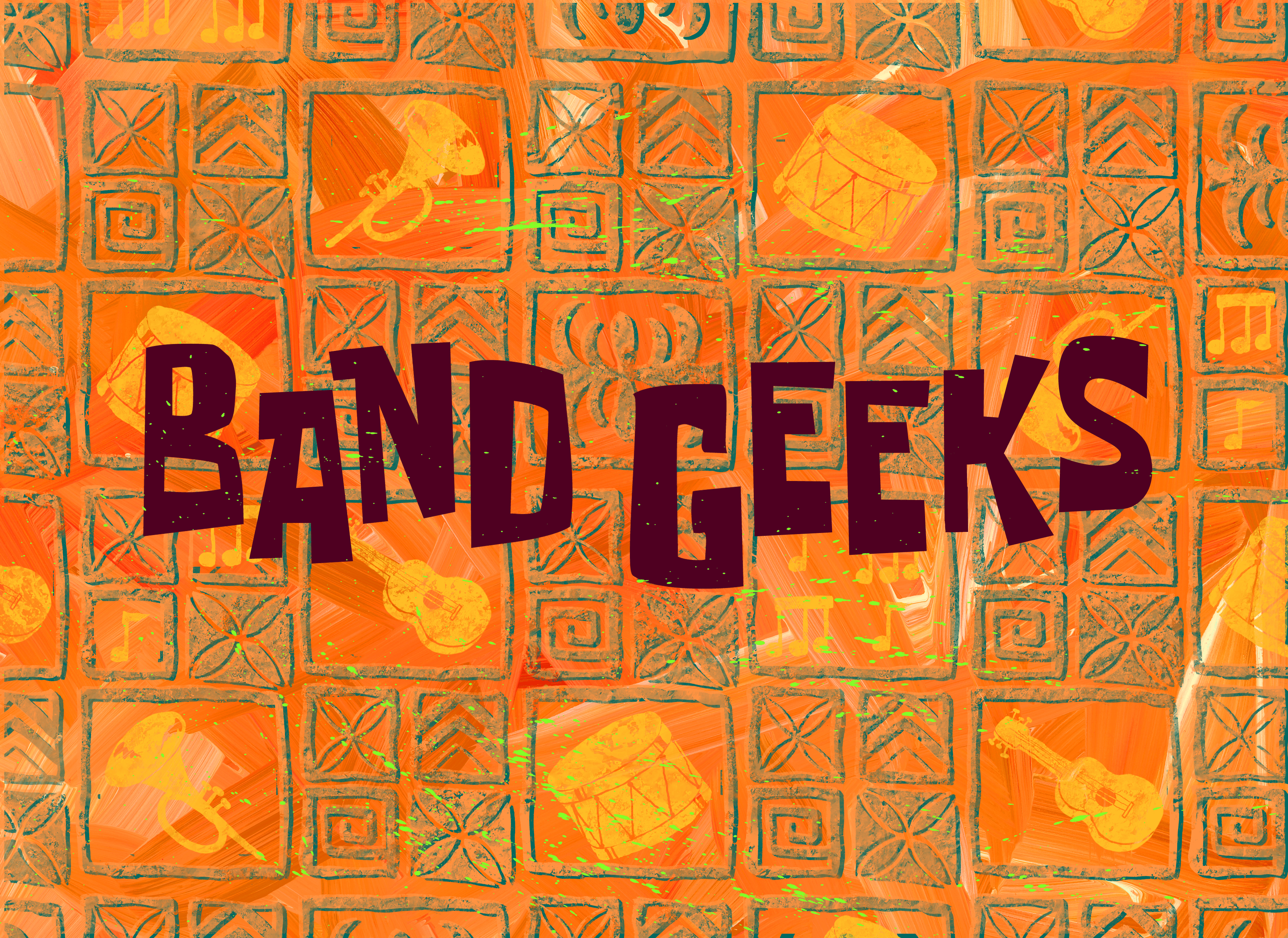 #1.) BAND GEEKS
...yeah yeah, you all saw this coming!
One of if not the best episode in the entirety of SpongeBob's history and there are plenty of reasons as to why: it is packed to the brim with humor throughout and I like seeing Squidward as a sympathetic hero in this episode as well seeing as he's not trying to hurt anyone or even being a grump but rather someone who is trying as hard as he can with no success whereas his rival Squiliiam has and
is breathing down his neck every time...and whenever there's a random musical number in the series like here with 'Sweet Victory', it usually steals the show! An awesome song plus awesome visuals plus a really awesome climax makes for not only an awesome episode...but also the best SpongeBob Squarepants episode of all time!
...and those are my Top 10 SpongeBob Squarepants Episodes Of All Time! Thank you so much for reading...and to Stephen Hillenburg, thank you so much for everything that you did in giving SpongeBob Squarepants the sense of humor that it needed to become one of the most influential and groundbreaking cartoons of all times. You will be dearly missed and may you rest in peace...