Holy crap, what an insane year we've been through! In entertainment alone, we've seen some major moments that shook the entire industry from the most groundbreaking animated series of the decade coming to an end to the Internet causing mass hysteria over newly announced cartoons to the passing of legends like Stan Lee and Stephen Hillenburg...you see how crazy it got? You would think that going back to reality would help to collect some sanity, but it's apparently even worse especially with all of the terrorist acts like mass shootings...so let's just stick to the world of the entertainment industry for the time being especially when the movies that I had seen this year have been consistently good for the most part. Sure there were a few embarrassments, but the ones that shone the brightest were also the ones that do so for all movies of the year...what were these ones exactly? Let's take a look...these are my Top 5 Best Movies Of 2018!
---
5.) Ralph Breaks The Internet
For a studio that rarely ever makes sequels, 'Ralph Breaks The Internet' was a pretty damn good successor to the original 'Wreck-It Ralph' despite having problems in the writing for the first half and having too many characters to work with. This is easily a fun watch for everyone, but my recommendation is to watch it among friends or even your best friend since the message will leave a stronger impact if he or she is there to experience it with you. Before you all say that you need to watch the first 'Wreck-It Ralph' before going to see the sequel, it is honestly optional since it doesn't depend that much on context from what happened before. It may not have left the strongest impact as a Disney film, but 'Ralph Breaks The Internet' will leave you happily satisfied as a well made meme
4.) Christopher Robin
While it doesn't have the charm or wit that 'The Many Adventures Of Winnie The Pooh' or the 2011 'Winnie The Pooh' film have due to suffering from a clichéd story and recycled characters, it succeeds in delivering the heart of the Winnie The Pooh franchise thanks to the comeback from the beloved characters and tender moments that help to give the movie charm in its simplicity making it an easy-going film for people looking for something humble. It's always a sunny day when Christopher Robin comes to play...
3.) Incredibles 2
I don't think there has ever been a more demanded sequel from Pixar than for 'The Incredibles' which is hailed as not only one of Pixar's best animated films, but also among one of the greatest animated films of all time and we had to wait a total of fourteen years to see the anticipated battle of The Incredibles VS. The Underminer-no, the Nintendo video game does not count! With how highly demanded this film was for many years, it seems that Pixar would always turn the other way and make a followup of their other properties whether people wanted them or not such as 'Toy Story' or 'Cars'-heck, even 'Monsters Inc.' and 'Finding Nemo'! But believe me when I say that 'Incredibles 2' is a great successor to one of Pixar's best films ever that still holds the same amount of action and heart...even if the story is structured too similarly to its predecessor. If you're a fan of Pixar or even 'The Incredibles' in general, this is hands down a must-watch...after fourteen years, the wait was worth it!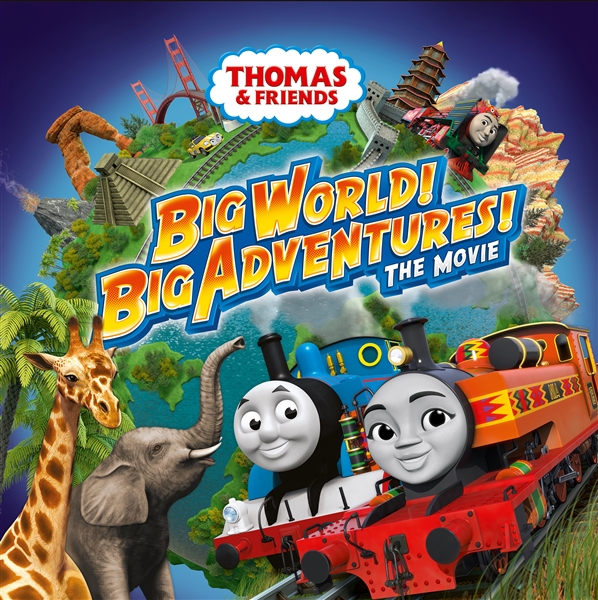 2.) Thomas & Friends: Big World, Big Adventures
Much like what happened last year with 'Journey Beyond Sodor', 'Big World Big Adventures' marketed itself by controversy and split the fandom in half. While you could argue that the marketing campaign for 'The Great Race' was obnoxious as hell, at least there was actual content being given to us whereas 'Journey Beyond Sodor' and 'Big World Big Adventures' gave us the bare minimum: a trailer, a behind-the-scenes mini documentary, they sprinkled some trigger words in a couple of news articles and the fandom argued and argued and argued for months on end...and after a rather exhausting and stressful year, it was finally time for the movie to make its debut and...I know I'm gonna get a ton of hate mail and a ton of people in the fandom are gonna say that I'm a 'Mattel supporter'...but I don't care, I friggin' loved 'Big World, Big Adventures' as it was in my honest opinion a faithful adaptation of a classic novel that helped give our little blue tank engine what he has always dreamed of. Let's go go go on a big world adventure, the world's just a train ride away!
1.) Won't You Be My Neighbor
With how critically acclaimed that 'Mister Rogers' Neighborhood' was with how it revolutionized the idea of children's television with how it should be versus what shouldn't it be and what it should communicate to children in order to make them feel accepted in the world that they live in, it would only make sense that a documentary should be made this year to celebrate the fiftieth anniversary of the day that 'Mister Rogers' Neighborhood' first debuted on television...but did it do a good job in recapturing of who this brilliant man was and the unforgettable series that he created? The answer is...yes, it truly did since it does a really great job in not only illuminating the contradiction of Fred Rogers as a person, but also the paradox of his series and how nothing about it should make sense as far as being a hit in order to strike a chord with so many kids. There were a number of moments where you see Fred making people who were on the fringes feel accepted and valued whether they were in a wheelchair or homosexual...Mister Rogers loved him for who they were and that's why he was a father figure to so many people. But where the documentary truly shines in my opinion is when it takes a look outside of the studio and shows Fred Rogers' perspective of the world and what frustrates him about war and children's television...they even manage to show the footage of him going before Congress to get additional funding for PBS. While some films from this year have achieved greatness like The Incredibles and Thomas The Tank Engine, 'Won't You Be My Neighbor' managed to stand above the competition with its pure originality which is becoming harder to find nowadays...in an age where Hollywood is dominated by franchises, this is exactly why 'Won't You Be My Neighbor' earns the title of the best film of 2018!
...and there you have it, ladies and gentlemen! After what I said about honoring original features, I might as well toss that out the window and prepare for the giant wave of sequels and adaptations coming in 2019 including but not limited to...
THE LEGO MOVIE 2...birthday present for my sister?
FARMAGEDDON: A SHAUN THE SHEEP MOVIE...another one of these? Sure, why not?
THE SECRET LIFE OF PETS 2...the trailers don't have me sold, but could still be good
TOY STORY 4...you'd better prove to me that it's worth continuing after that perfect ending!
PLAYMOBIL: THE MOVIE...possible LEGO Movie ripoff?
FROZEN 2...now that Disney has proved that they can still make good sequels like with 'Ralph Breaks The Internet', hopefully they'll do a good job with this one too!