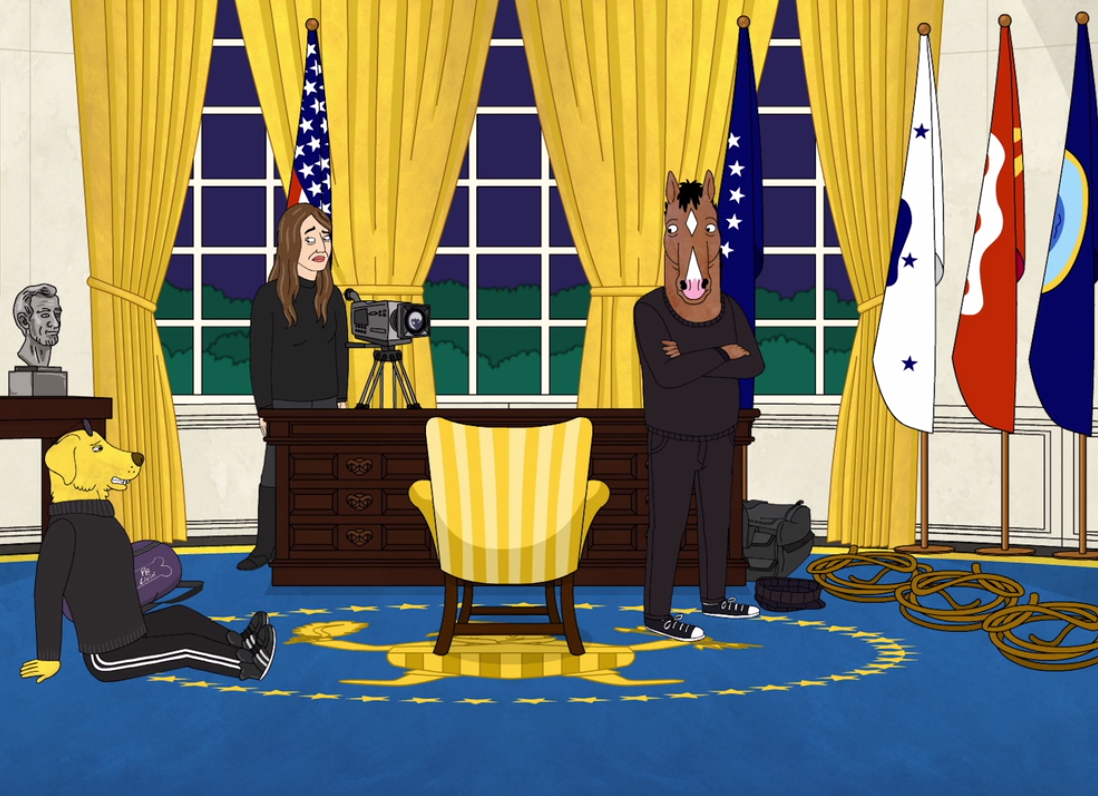 Season 2, Episode 9: The Shot
Written By Elijah Aron and Jordan Young
Back during the events of the Season 1 finale, BoJack Horseman had gotten the lifelong dream role in the movie about his childhood hero Secretariat with his former ghostwriter Diane Nguyen as a character consultant...and while the road to stardom hasn't been easy for BoJack from trying to maintain a positive outlook while on the film set to finding a way for his director to like him as a person, it would seem like their biggest challenge yet is on the horizon when a crucial shot for the film is missing. Looks like it's time to dodge a bullet once again because it's time for 'The Shot'!
THE SHOT:
BoJack cooks up a scheme with Kelsey, Todd, Princess Carolyn and Mr. Peanutbutter to steal a crucial shot for the Secretariat film.
PROS:
'Messin' With Nixon'-while BoJack believes that the former President Richard Nixon scene is the core of the whole movie with how it shows Secretariat being morally corrupted and the darkness of his soul, producer Lenny Turteltaub explains that they ran a focus group over the break and found out that people didn't want to see controversial stuff resulting in the scene being replaced with Secretariat giving Christmas presents to his nieces...this entire concept alone is a very good example of how the entertainment industry has changed so much throughout the years to the point where anything that may feel controversial or offensive is removed for the sake of profits and because it's show business-another good example being the rumor of the 'Jim Crow' scene being removed from the movie Dumbo for Disney+, the entire third act of the film wouldn't have made any sense since the crows played a crucial role in the movie with them being the ones to make the little elephant fly!

'BoJack's Seven'-I find it hilarious how we just recently had one show about talking horses (My Little Pony: Friendship Is Magic) doing their own 'Ocean's Eleven' parody almost two weeks ago and now it's BoJack's turn to do his own version of the heist from the recruitment of his closest friends and partners including Character Actress Margo Martindale to planning among his team using a model of the Oval Office that he stole to use as an example to ultimately failing in their mission resulting in Turteltaub finding out about everything and firing director Kelsey Jannings while going forward with using the replacement scene of Secretariat as originally planned...honestly, that's Hollywood for ya!
CONS:
Beatrice Horseman-from everything that we have seen and heard about BoJack's parents from throughout all of Season 1 and up to this point, I have felt so sorry for BoJack that he had to put up with easily some of the most abusive and harmful parents I have ever seen in media; his mother Beatrice taking the cake easily of the two by refusing to let her son put out a 'perfectly good cigarette' and making him finish it since she doesn't want to be the mother of a quitter despite BoJack clearly not being able to handle smoking from the coughing fit to the stream of tears when trying to emulate his idol Secretariat's signature smoke to the point where she punishes BoJack not for smoking/stealing the cigarette but for being alive...man, what a bitch!

Sebastian St. Clair-this is a character that I am literally scratching my head as to what purpose he serves in the series as a whole...he is constantly doing volunteer work for the people of Cordovia in order for Diane to write a book about him in the same way that she did for BoJack Horseman when in actuality he is only in Cordovia for the positive publicity and boost his image in the United States while spending most of his time making tributes to himself instead of helping those that are most in need due to the country being at war. I can see how this could be an interesting parallel as to the kind of egotistical monster that BoJack could've become had he not met Diane, but what purpose does Sebastian serve to the series if he's only in for this one season and that's it?!
Overall while taking a couple of bullets mostly from characters who I still am not fond of relate to in the slightest, 'The Shot' still manages to pack a punch with its powerful take on how Hollywood has moved with the times from getting away with pretty much anything you can imagine to being so afraid of offending people that they have to remove anything they can...for me, 'The Shot' is definitely the episode where BoJack Horseman as a television series really becomes what it's really about and for that has secured a rating of a 9 out of 10.
--------------------------------------------------------------------------------------------------------------------------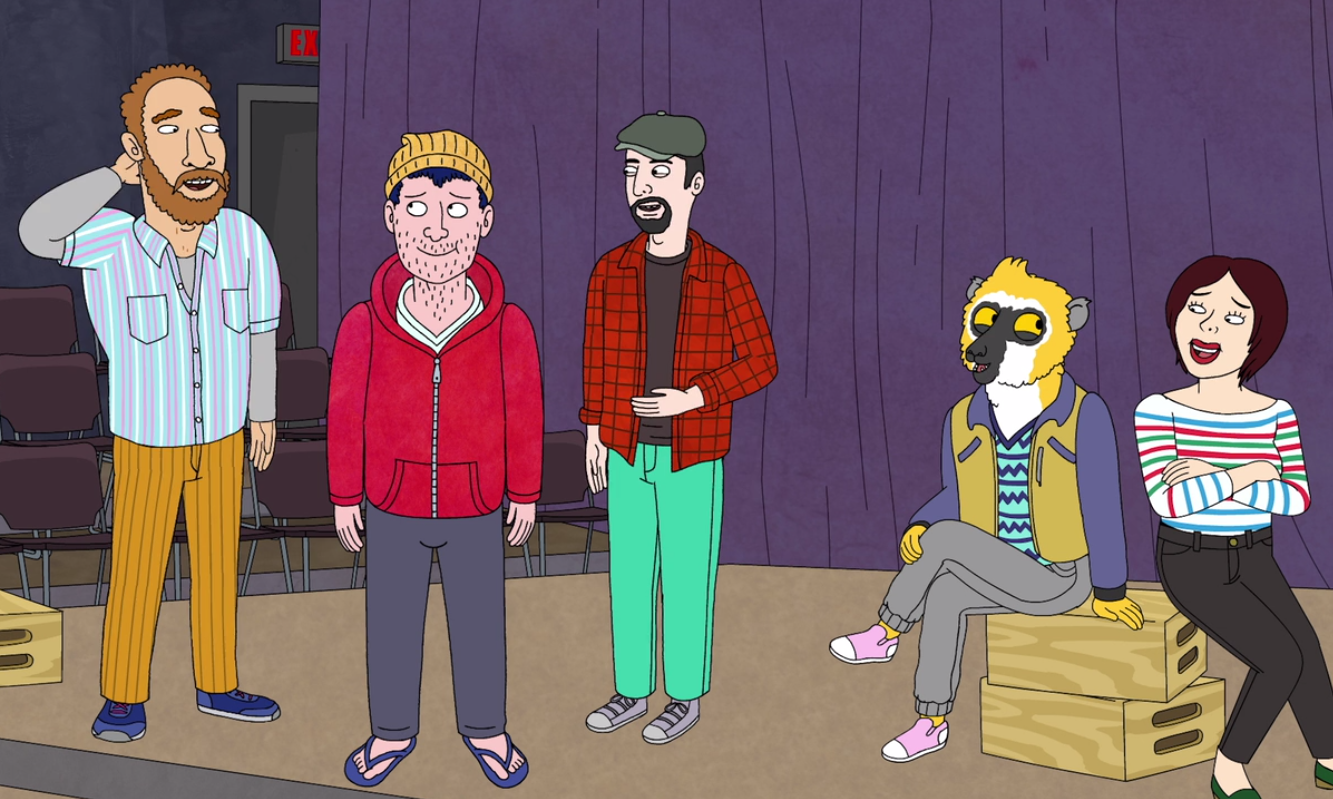 Season 2, Episode 10: Yes And
Written By Mehar Sethi
One of the most popular forms of theater as well as acting in general is improv comedy which for those who don't know is when
most or all of what is performed is unplanned or unscripted being created spontaneously by the performers without use of an already prepared written script...and improv is something that I'll admit that I've done a few times by ad libbing extra lines in a few stage productions that I was in back during high school from 'Bye Bye Birdie' to 'Seussical The Musical' even getting to attend a free improv class with my fellow cast members in New York during a trip to see one of the original Daniel Radcliffe/John Larroquette performances to 'How To Succeed In Business Without Really Trying'. But what will happen when Todd decides to give it a chance? Let's find out and make things up as we go with 'Yes And'!
YES AND: While

Todd gets sucked into the cult of improv comedy, Wanda thinks Diane is a bad influence on BoJack when he has to deal with a career crisis.
PROS:
Continuity with 'The Shot'-as we saw during the ending of the previous episode, producer Lenny Turteltaub wasn't too happy with BoJack and Kelsey Jannings breaking into the Oval Office to film the controversial Richard Nixon scene from 'Secretariat' resulting in Kelsey being fired and replaced by director Abe D'Catfish who doesn't care if things like boom mics appear in shots because everything can be fixed in post production...as for Diane, she ended up moving back to Hollywoo after having her fill of Cordovia and even not bothering to finish Sebastian St. Clair's book resulting in her crashing at BoJack's house where she may have now overstayed her welcome and is starting to become as washed up of a celebrity as BoJack was when they first met

Todd And The Shenanigags-with how harshly that Todd has been treated lately from BoJack and Wanda having their own work to do to being fired from the set of Mr. Peanutbutter's game show by J.D. Salinger and even Mr. Peanutbutter being too busy, seeing him join a comedy improv troupe makes for a very interesting concept since he believes that it will be a promise for social and professional opportunities only for it ends up being a cult

Foreshadowing to 'Escape From L.A.'-just when you thought that 'BoJack Horseman' couldn't get any more real as a television series, the final act of the episode comes at ya like a wrecking ball of emotions from BoJack breaking up with Wanda and traveling to New Mexico to meet with his old friend Charlotte to Wanda moving back in with her sisteer to Todd becoming a permanent edition of the Shenanigags to Diane telling Mr. Peanutbutter over the phone that she still loves him but she can't talk on the phone anymore since it's too hard for her...what will end up happening to BoJack during his time in New Mexico with Charlotte, that will have to wait until next week
Overall, BoJack Horseman is becoming more real and relatable during these past few episodes and 'Yes And' is a prime example of this because it honestly feels like BoJack's 'happily ever after' of being in his dream movie with the girlfriend of his dreams may now be coming to an end before it even started...for that, 'Yes And' gets a perfect 10 out of 10 and I will see you all next week for the final two episodes to Season 2 of 'BoJack Horseman'!
SEASON 2 OVERALL RATING: 8.55/10