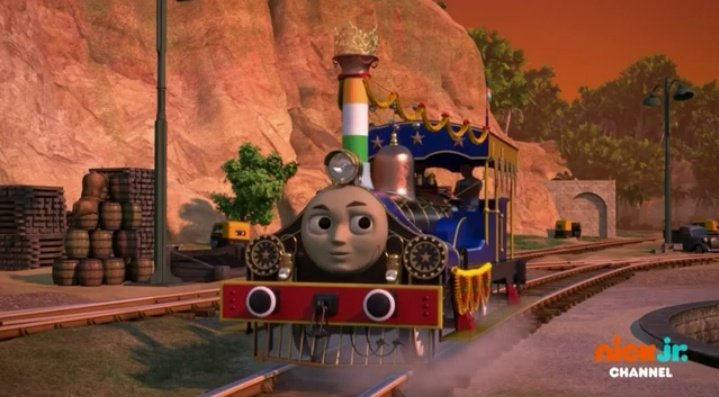 Season 23, Episode 3: Crowning Around
Written By Camille Ucan And Rose Johnson
Directed By Dianna Basso
Ever since he won the Best Decorated Engine competition at the Great Railway Show, Rajiv has proven to be rather arrogant and vain believing himself to be a "royal engine" due to his crown resulting in making patronizing or belittling remarks to the other engines. But Rajiv's heart is in the right place along with his good sense of humor and he does care for his friends deep down though he'll often be sensitive if it comes close to his crown getting lost or damaged...and it looks like that day has finally come as we go go go on a big world adventure back to India with Rajiv as we go 'Crowning Around'!
CROWNING AROUND: Rajiv learns that he can be really useful with or without his crown in India
PROS:
The animation-

even if they had to reuse a lot of assets from Sodor in order to create the railways of India like they did for the 'Big World Big Adventures' movie such as the China Clay Pits for the engine sheds as well as the shunting yards during Rajiv's fantasy where I swear they have officially made Fred Pelhay from the Railway Series canon in the television series, you can't deny that the team at Jam Filled still did an amazing job in recapturing the beauty and rustic views of India from what we saw last season with the lush green landscapes of the forests and valleys to the many mountainous regions...in fact much like giving our main cast a whole new look with things like rivets and handrails, the team at Jam Filled have actually upgraded quite a lot on their animation of India ever since Season 22 and the movie!

The fantasy sequences-

with this now being one of the major selling points for the series, this sequence of Rajiv showing off his newly polished crown to everyone he meets along the way from the trucks to a flock of birds and even some tigers really plays into his egotistical personality of thinking that he is a royal engine because of his crown despite everyone telling him otherwise especially when it comes to what happens throughout the course of the story when Rajiv's crown is stolen by some troublesome monkeys...and like I said regarding the animation, I think that the show staff have officially made Fred Pelhay from the Railway Series canon in the show similarly to how they made Rickety canon in the 'Why Is Africa Important To Nia' video that the official Thomas & Friends YouTube channel released a while back during the promotional run for the movie and Season 22

Continuity With 'Thomas And The Monkey Palace'-even though 'Thomas And The Monkey Palace' wasn't one of my favorite episodes from Season 22, I find it so fascinating how a tiny little detail mentioned by Rajiv as a warning to Thomas from that episode about how troublesome monkeys tried to steal his crown when he visited the Monkey Palace went on to form the story of this episode one season later...and it's not just the monkeys getting involved in this heist mission, it's also elephants and even the other engines who are forced into doing Rajiv's jobs while he mopes and dopes about his crown!
CONS:
---
Overall, 'Crowning Around' is an episode that is gonna largely depend on how you feel about Rajiv as a character with how much he brags about his precious crown...and while it's true that his constant bragging can be annoying at times and

Rajiv getting his crown back in the end felt forced

, 'Crowning Around' as Rajiv's first starring role episode still made for a really great trip back to our railway friends in India and for that earns a rating of a 9 out of 10.
Crowning Around-9/10
SEASON 23 OVERALL RATING: 9.33/10