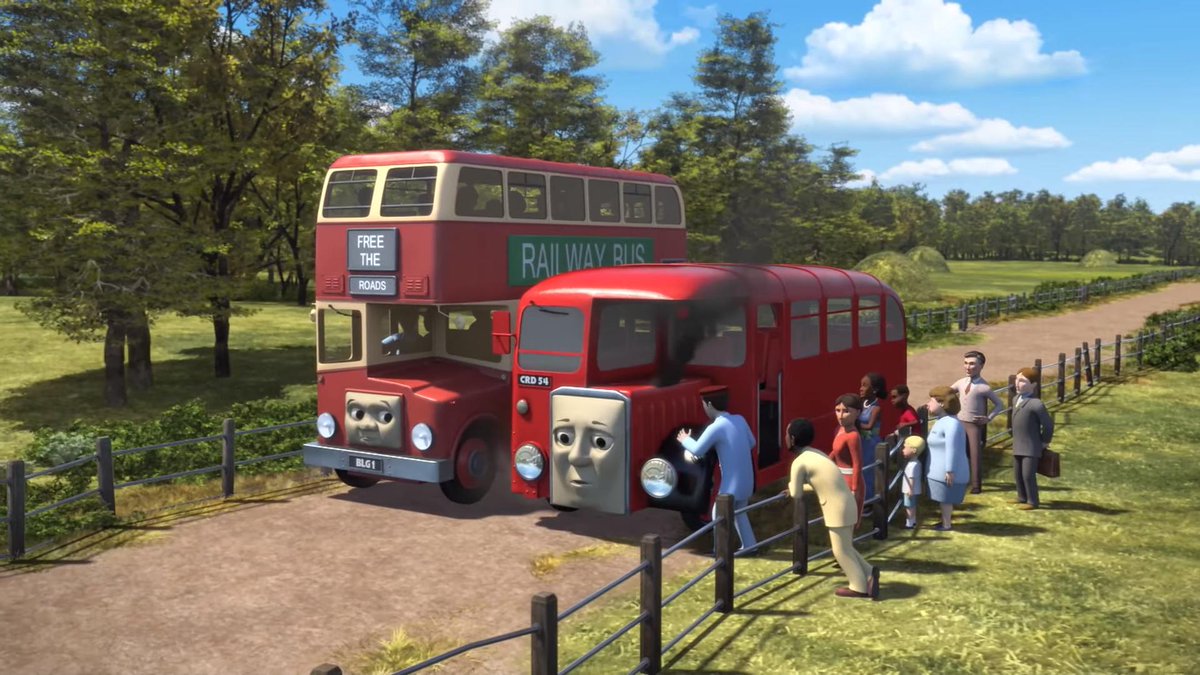 Season 23, Episode 9: Free The Roads
Written By Michael White
Directed By Dianna Basso
Bulgy The Double Decker Bus-one of the most famous villains in all of 'Thomas & Friends' history...from stealing Duck and Oliver's passengers just to get stuck under a bridge and turned into a henhouse to being given a second chance as a mobile vegetable stand before being converted back into a passenger bus to help take care of the extra passengers on Thomas' branch line, there is just no stopping him being straight-up against the railway...but this could soon lead him into trouble once again in our next big adventure for Season 23, let's go go go with Bulgy as we 'Free The Roads'!
FREE THE ROADS:
Bulgy wishes for passengers to take the bus instead of a train and gets his wish after accidentally tainting a water tower.
PROS:
The animation-as we discovered via a number of recent videos from the official Thomas & Friends YouTube channel, the animation has improved quite a bit from the 'Big World Big Adventures' movie and Season 22 including a brand new look for our main cast of engines from rivet detail to handrails and even Bulgy and Bertie got an upgrade as well...from wing mirrors to rivets and vents and even gaining their license plates from the Railway Series of which Bertie's license plate reads 'CRD54'-a reference to Railway Series illustrator C. Reginald Dalby and the 1954 book 'Edward The Blue Engine' of which the license plate on Bertie first made its appearance in

Bulgy-not only do we get a nice reintroduction of Bulgy by Thomas for those who are unfamiliar with the double decker bus and while we only got a brief look into his character back in Season 21's "Unscheduled Stops", it is so great to see Bulgy being fully fleshed out once again as a character in an episode of his own of which he hasn't had a leading role like this in sixteen seasons since Season 7's "Bulgy Rides Again"...and unlike in that episode where writer Brian Trueman got Bulgy's personality completely backwards, writer Michael White knew how to properly portray our devious bus from blocking Percy at the Maithwaite Station level crossing to contaminating the water tower with a bag of soil resulting in poisoning Thomas and Gordon as well as Rebecca!

The fantasy sequences-with this

now being one of the major selling points for the series,

this sequence of Bulgy and Bertie as superheroes trying to stop a villainous Percy from forcing his passengers to travel by train was friggin' hilarious in how it satirizes everything about superheroes from the good ol' days from the dialogue by the characters to the music orchestrations...while some would argue that they should've used Diesel or 'Arry and Bert for the fantasy instead of Percy, I'm pretty sure it was a case of using the engine that was last seen during the episode and at least this sequence gave fellow YouTuber FluteGirl2406 her wish come true at last! On top of that, it was so great to see Max and Monty make their official speaking return to the series ever since Season 20's "Mucking About" especially with them being the ones to wake Bulgy out of his superhero daydream!
CONS:
Overall...just when I thought Michael White couldn't top himself in terms of writing ever since Season 22's "Hunt The Truck", 'Free The Roads' steps in and takes the spot of not only the best episode of Season 23 but also the best episode in the entirety of the CGI series where it can even challenge the likes of episodes from the Classic Series and an episode as amazing as this was definitely deserves a rating of a 10 out of 10.
SEASON 23 OVERALL RATING: 8.83/10