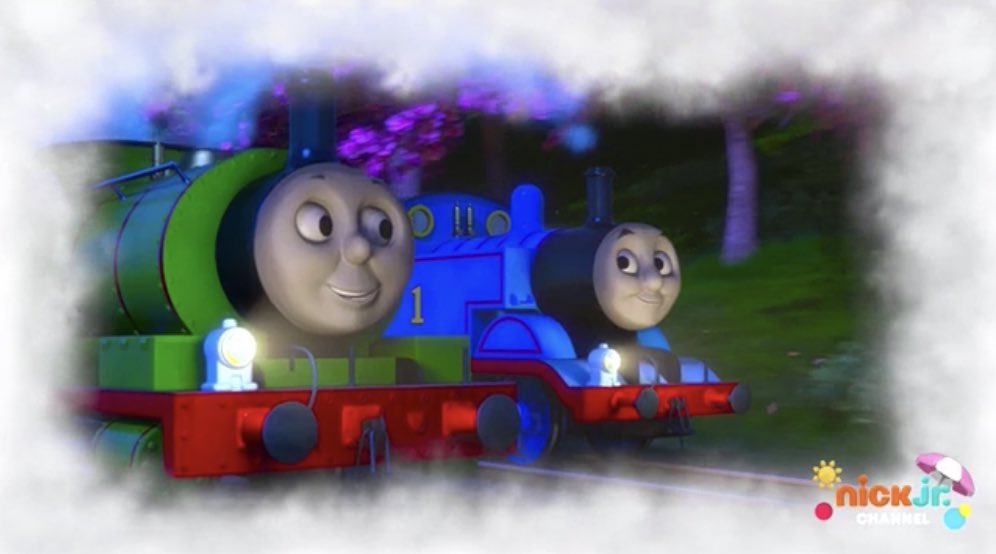 Season 23, Episode 11: Wish You Were Here
Written By Camille Ucan and Rose Johnson
Ever since Percy first came to the Island Of Sodor to help out Edward when the other big engines went on strike, he has made so many great friends whether they ride the rails and roads or hover in the air...but his best friend on the North Western Railway has always been the Number One Engine himself Thomas. Sure they may get into disagreements from time to time, but they always find a way to strengthen their friendship in the end with a happy toot of their 'best friends whistle' as they tell each other everything...but one can only wonder how the two of them feel when they are separated or in Thomas' case in different countries. Let's go go go on a big world adventure back to China with Thomas as we 'Wish You Were Here'!
WISH YOU WERE HERE: Thomas misses his best friend Percy while working on the Chinese Railway
PROS:
'Best Friends Forever'-while a majority of the fandom will argue that the story to 'Wish You Were Here' is basically a Chinese version of Season 18's "Missing Gator" where Percy was missing his faraway friend Gator that he met back in 'Tale Of The Brave' complete with the main character learning the same lesson about bravery in order to get his job done even though he is scared and while I can see why people would have a problem with this, one of the biggest complaints that people raised about the 'Big World Big Adventures' movie is that Thomas just left Sodor to go on his international travels without even saying goodbye to his friends on Sodor because it looked like it had been months before Thomas returns to Sodor with Nia in what appeared to be the season of autumn...so with a mention of the fact that Hong-Mei pulls the mail train in China and a continuity nod from Thomas to the Season 3 episode 'Thomas, Percy And The Mail Train', to see that Thomas genuinely misses his best friend Percy while he is busy helping out on the Chinese Railway was really heartwarming especially when Thomas is given the idea of sending a postcard to his friend while he is taking the main train which is something that Season 18's "Missing Gator" never did-it may not be as memorable as Season 18's "Missing Gator", but it's still really good for an international episode!

Teaching Chinese culture-

some or even many fans might be turned off by this due to feeling like that they are back in school learning things that they don't want to (as if they didn't want to learn anything before), I'm all for learning new things about different cultures because I actually did take Chinese classes a while back and it was great getting to learn about one of the most popular events in China being the annual Dragon Boat Race from Yong Bao and Hong Mei as well as making plenty of continuity nods from Season 3's "Thomas, Percy And The Dragon" as well as Season 22's "Thomas And The Dragon"...but while first seen cleverly with sparks flying from behind the dragon boat, you would think that Thomas would know by now that dragons don't really exist from all the adventures that he has had involving dragons whether on Sodor or on his international travels!

The animation-even if they had to reuse a lot of assets from Sodor in order to create the railways of China like they did for the movie such as the shunting yards and Tidmouth Sheds, you can't deny that the team at Jam Filled still did an amazing job in capturing the beauty and tranquility of China from the hills to the valleys...not to mention that I love the team at Jam Filled brought back some old locations from throughout the China episodes such as the bamboo forest from Season 22's 'Thomas In The Wild' where the giant pandas live as well as Tu Zi Quan from Season 22's 'The Water Wheel' where the water wheel is still bringing water to the rice fields!

The fantasy sequences-with this now being one of the major selling points for the series, this sequence (even if it is just doing what Season 18's "Missing Gator" did in terms of the main character remembering his faraway friend during their time on Sodor) of Thomas fantasizing about his best friend Percy being in China as well as introducing him to his new international friends albeit having already met Yong Bao in 'The Great Race' and showing him the sights of China from the Nature Reserve from Season 22's "Thomas In The Wild" to Tu Zi Quan where the water wheel is still bringing water to the rice fields from Season 22's "The Water Wheel" that we have seen from throughout the revamped series was truly heartwarming especially when Percy suddenly disappears from the fantasy as Thomas is being woken up to start work by Hong Mei-in fact if you're into comics and superheroes, you could make the joke that Percy basically got Thanos'd!
CONS:
Overall...it may be China's "Missing Gator", but 'Wish You Were Here' is still a very heartwarming episode that strengthens one of the longest running friendships from throughout the series even after the international revamp and that is why I am giving it a rating of a 9 out of 10.
SEASON 23 OVERALL RATING: 8.95/10